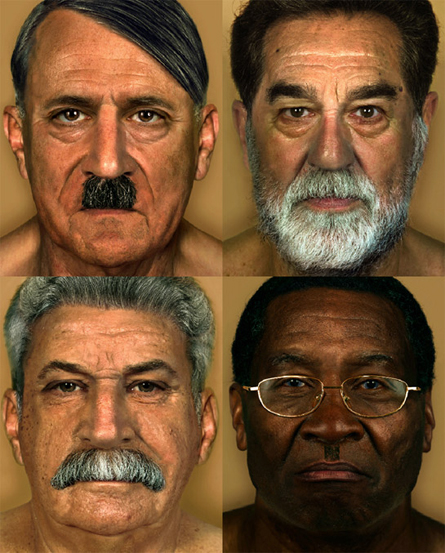 Using digital technology, graphic designer Hans Weishäupl has carefully reconstructed portraits of 13 dictators over the past 100 years. However, the photo montages, which measure 1.8 m x 2.3 m do not contain a single piece of original picture material, but are made of countless tiny, specially shot portraits of the citizens of the country the dictator ruled over. Christian Lechelt and Hans Weishäupl photographed over 350 people between November 2007 and March 2008, in Hamburg, Munich, Vienna, Dresden, Frankfurt, Berlin, Amsterdam, Moscow, Belgrade, London, Barcelona, Paris and Milan.
The portrait of Hitler is made up of 37 people. His nose belongs to an estate agent from Berlin, his upper lip is from a locksmiths in Dresden, and so on. Each wrinkle, each mole, each eyebrow was reconstructed to resemble the original.
Pretty amazing stuff!