As someone who uses Instagram pretty much every day, I've seen a massive increase in brands turning to Instagram "Stories" to boost engagement with their audiences. Having launched in August 2016 as a challenger to Snapchat (…who?), it's only got bigger and better. With over 300 million daily users, it's safe to say it's overtaken Snapchat's success.
More and more brands are turning to Instagram to reveal new products and offers, interacting with their audiences and offering instant, exciting and fresh new content. There's even been a shift in consumer behaviour too. I personally follow more brands these days and take in more content on Instagram, rather than solely use it as a sharing platform. If you're not an Insta-addict and have no idea what I'm on about, here are 5 great examples of how brands have recently used Instagram Story tools effectively:
1. Airbnb – Polls
Airbnb's #Travel Tuesday weekly Stories not only provide their viewers with travel inspo but invites them to take part in polls, to guess which location they're showing on screen. Poll stickers are a perfect way to grab someone's attention, and people love to engage with them. These customisable two option polls are perfect conversation starters, as well as customer feedback tools for any business.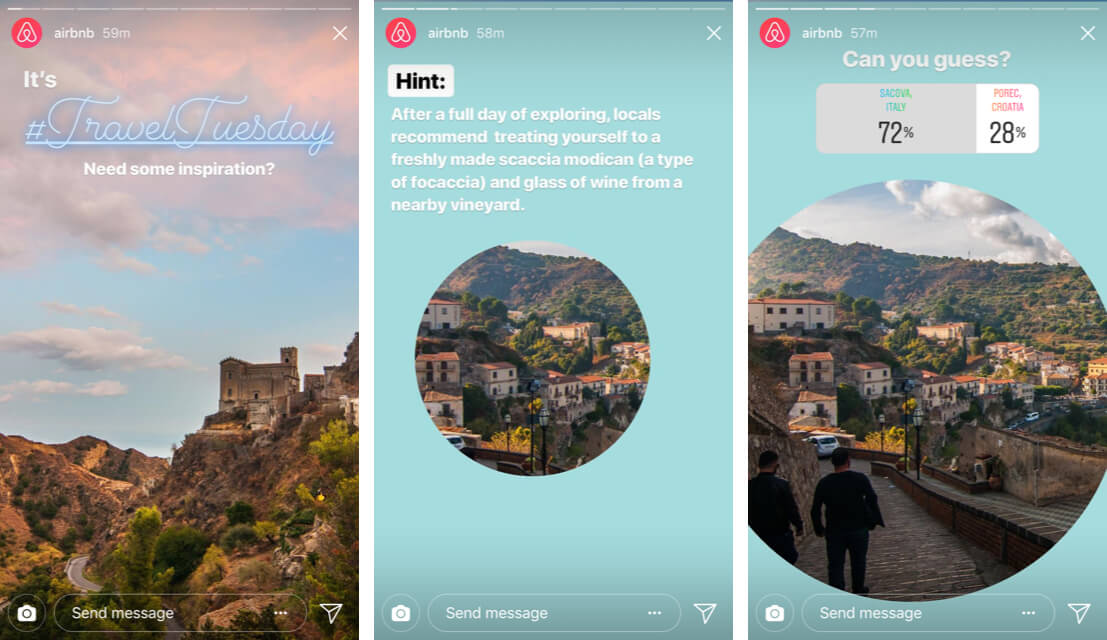 2. Lush Cosmetics – Instagram Live
A brand who frequently use the Instagram Live feature is Lush Cosmetics, who pride themselves on the fact all of their products are freshly handmade. What better way to show this than through a completely un-edited, un-retouched live stream.
Giving customers a first-hand look into their processes behind closed doors is a great way to gain customer trust and build brand loyalty. They also use Instagram Live to reveal new product launches and news, promoting these on their other channels as well to really hype up announcements.
3. Missguided – The 'See More' link
The 'See More' or 'Swipe Up' feature on Instagram for businesses allows brands to link to new products, blog posts and content. Paired with exciting imagery the 'Swipe Up' action proves that product promotion doesn't have to be boring. The more creative the Story, the more chance it has to grab the viewer's attention.
Missguided use this feature ALL the time, using the 'Swipe Up' feature essentially as a clickable shop window. I'm not their number 1 fan but you can't argue that they're a very visual brand who know their audience and how to talk to them. They know their audience want to see products and be able to shop them instantly; it's the ideal sales tool for a fast fashion brand.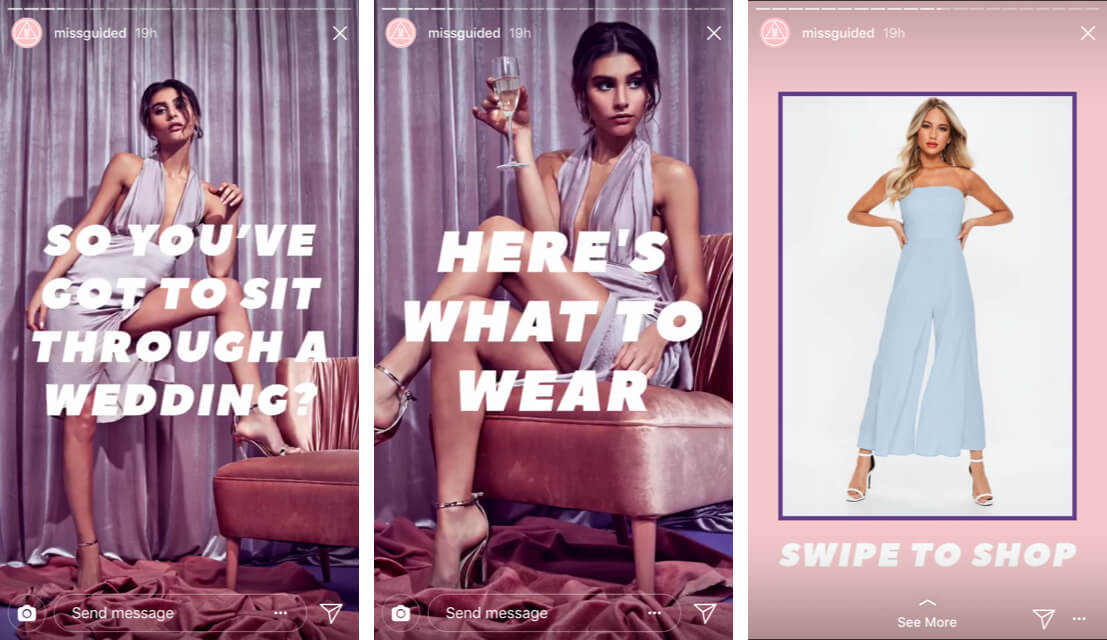 4. Ministry of Sound – Interactivity
How could I NOT feature one of our clients?! For the release of their new Sleepin is Cheatin Volume 2 with Tom Zanetti, Ministry used Insta Stories to reveal the track listing for a new album, scrolling through the listings at speed so users have to tap the screen to actually read the track names. This isn't necessarily using any of the features in particular, but more being creative with how people interact with Stories.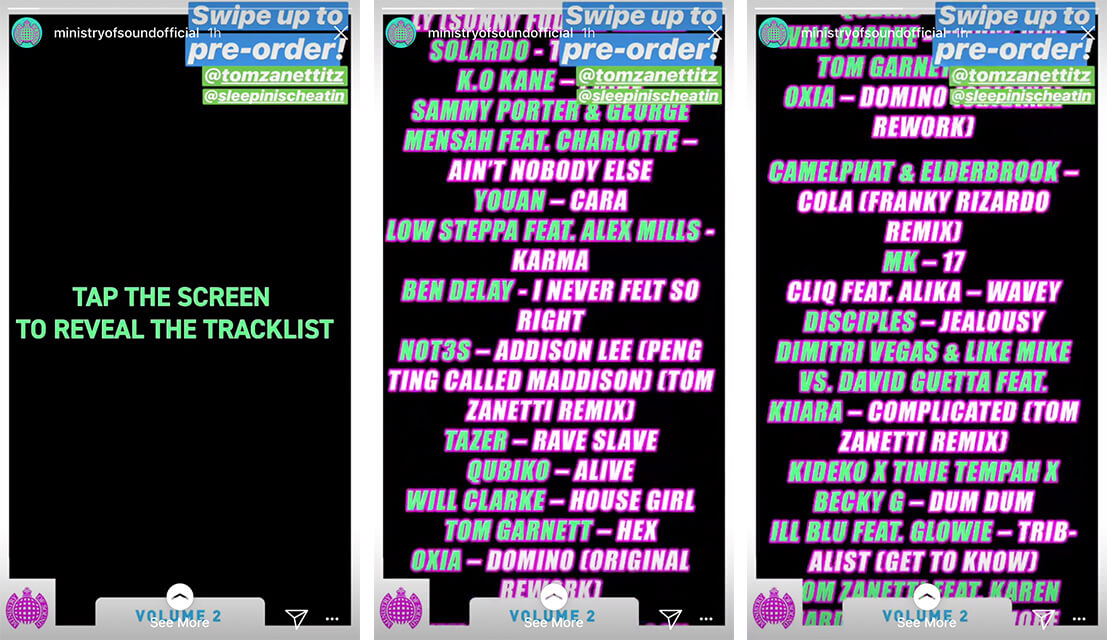 5. Apple – Tagging & Influencing
Similar to Instagram Posts, brands can tag other accounts in their Insta Stories. You can make the tag more prominent through Stories by choosing a colour, size and style of text to really make it stand out. This is a really great tool to use when adding user generated content and connecting with consumers. It's also great with connecting with influencers and other brands.
Whether you're tagging a customer or another brand, everyone loves a mention. A good example of this is Apple tagging customers using their new iPhone releases. This is a great way to promote their product and show off the features, but also generate new interest and connect with existing customers. Apple often tag influencers in their Stories too – such as well known photographers or videographers with high numbers of followers. By tagging these influencers in their posts, they're opening up new conversation with larger audiences and increasing interest in their well-known and loved brand.
Instagram Stories are quickly becoming one of the best channels to use to drive engagement, build brand awareness and even contribute to e-commerce sales.
So, if you've been thinking about using Instagram Stories for your brand, now's the time to get involved!