The true spirit of combinations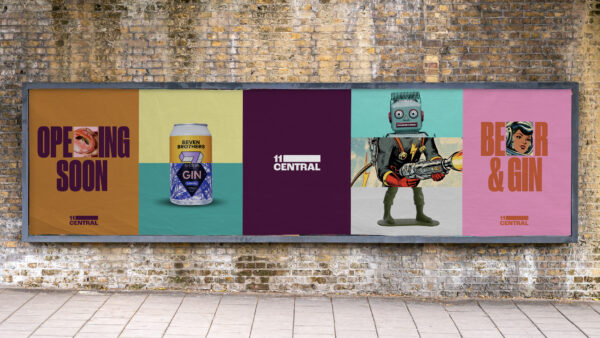 When Seven Bro7hers and Four Sis4ers announced they were embarking on an exciting new 'full family' venture, we knew we had to be involved. Since our work rebranding Seven Bro7hers in 2014, we've remained brand guardians and firm friends with the team, so we knew we could support them with the branding and opening of '11 Central' the newest, coolest and quirkiest addition to the Central Bay development at Media City.
An unexpected opportunity
For this project, the seven brothers and four sisters, were coming together - all eleven siblings - to create a bar concept like no other. 11 Central would collide exceptional gin distilling and tasting experiences, with authentic beer brewing in one huge experiential drinking location. There would be music, performance, private tasting events, dancing, eating, socialising and of course the enjoyment of alcohol. All of this enhanced with input and ideas from the 11 different personalities at the heart of the project.

Branding 11 Central was a hugely exciting challenge. We launched the project with a full team workshop, to learn about key audiences, unique attributes, compelling features and the team's aspirations for 11 Central.
What stood out right from the start was the unusual combination of 11 family members coming together on one huge project, and we decided to leverage this characteristic, turning it into a positioning of 'unexpected combinations' which opened up a world of creative opportunity. The team loved the idea of representing their individual personalities in an abstract way, and the concept of nothing at 11 Central being predictable.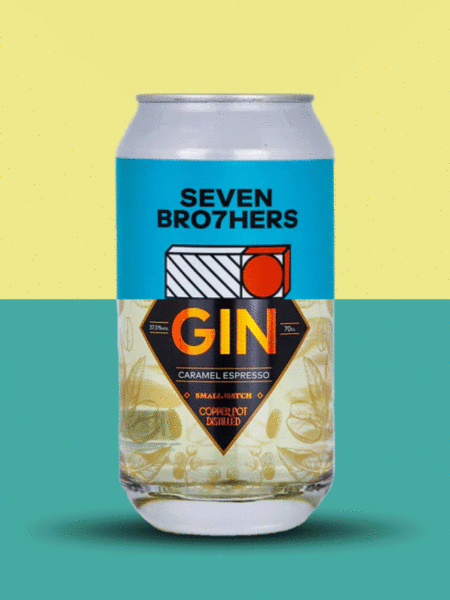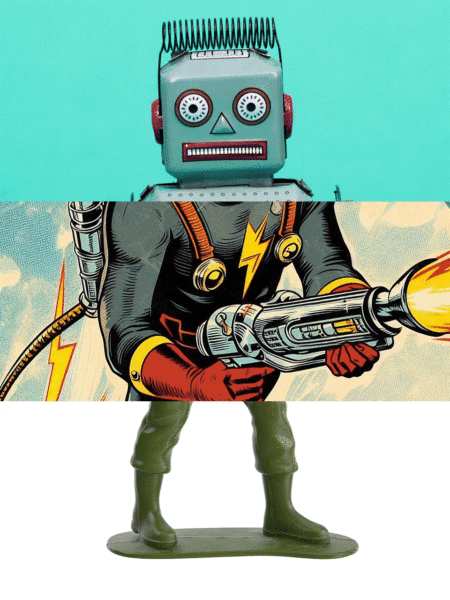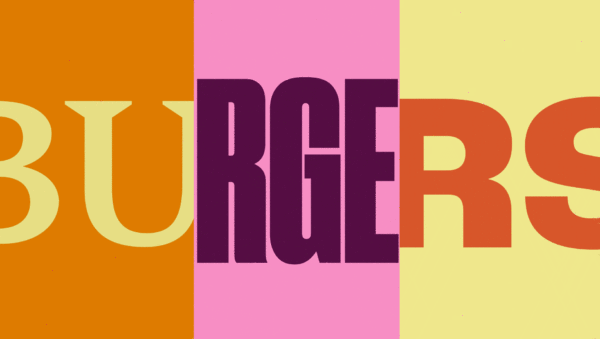 The creative concept that we developed to bring the visual identity to life was inspired by the highly unusual 'exquisite corpse'. We explored historical and modern references, compiling an exciting and completely unexpected melting pot of imagery that would form the core inspiration for the brand.
We mixed up all kinds of visual combinations - robots with mythical creatures, Manchester icons with cartoon characters - and a weird and wonderful library of characters and visual treatments materialised. An assortment of typefaces were brought in with the same methodology, mixing it up, slicing and dicing to create impact and intrigue.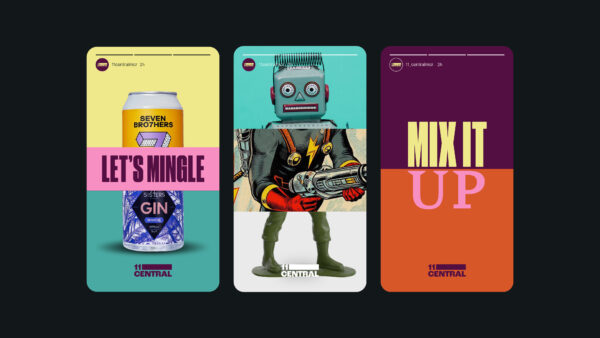 The brand mark went through several round of exploration. Somehow we needed to portray that same ethos of unexpected combinations whilst ensuring legibility.
Our approach was to bring in a lozenge shape, which would serve as a versatile graphical device which could house pattern, images, more type, could grow, shrink or change shape entirely. This could also be highly effective in digital format, accommodating moving image and videos drawing attention to content.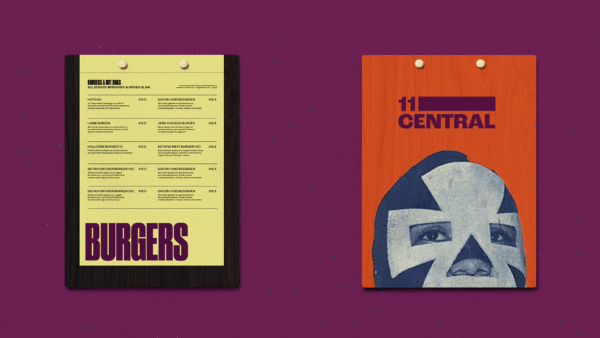 With an impactful look and feel, it was time to explore how this could be applied to the interior of the bar as well as across collateral and merchandise. We explored a huge array of opportunities for exciting and eclectic installations - graphical and sculptural. Some which would be ready for opening and some which could be added later as the bar evolved. We also looked at uniforms, menus, signage and social applications to ensure the vision for the brand was consistent and impactful across all touch points.
11 Central will open Friday 17th November 2023.