In this blog our Sparks lift the lid on what it's really like to work for our agency. They talk candidly about our culture, our future and share some honest advice for anyone who's thinking about joining us. 
For those new to Spark, we're a creative brand agency helping clients Become Unstoppable since 2002. Has anyone heard the term 'permacrisis' recently? We work with ambitious, forward thinking businesses to embrace the constant pace of change and thrive in our ever-changing world. In September 2023 we became Great Place To Work Certified. 
If you're ready to discover the real Creative Spark, read on. 
Here's what Cally, Charlotte, Alex, Hass, Elle, Kate, Emilie and Sasha have to say about life at Spark. With some honest words from our MD, Neil, to conclude this blog.
Cally, what does it mean to you to be a Spark?
For me, what it means to be a Spark is that you matter, and that can make a difference – to the work we do and also the people we work with. 
Opinions are listened to and genuinely respected, people may not always agree but they listen. And that level of respect is something we receive from our clients too, partly due to the fact that we're selective about who we work with. It's not about fame and fortune, it's more about relationships, enjoyment and satisfaction in the work we do in partnership with others. 
The camaraderie we share is genuine, we care about each other and help each other whenever it's needed, no questions asked. I've never felt like I matter the way I do at Creative Spark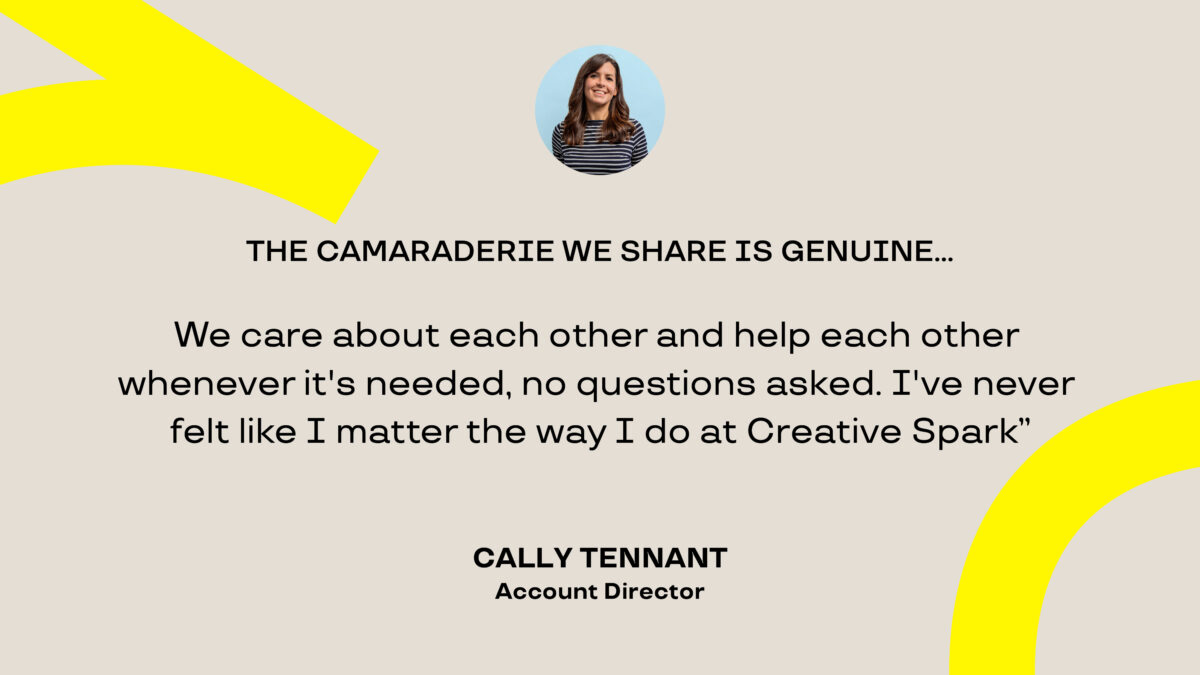 And what about you, Elle?
To be collaborative and creative, we are a small team so we need to join forces to ensure we get the best output for each of our clients. Everyone needs to wear a lot of different hats and I think spark gives you the opportunity to be creative no matter what your role.
Sasha, what does it mean to you to be a Spark?
To truly want the best outcome for our clients. Whether that's through challenging the brief, pushing the creative team internally or providing flexibility to help with a client's individual circumstances. Everything we do has the client at the very heart and we do what we do because we genuinely love it and care about the end result. 
Alex, what about you?
To be a curious thinker, championing creativity no matter your role in the business.

Charlotte, do you have anything to add?
To me, being a Spark means being part of a team that's committed, loyal, and willing to go the extra mile to help each other. It's being invested in a business that you believe in and are proud to be a part of.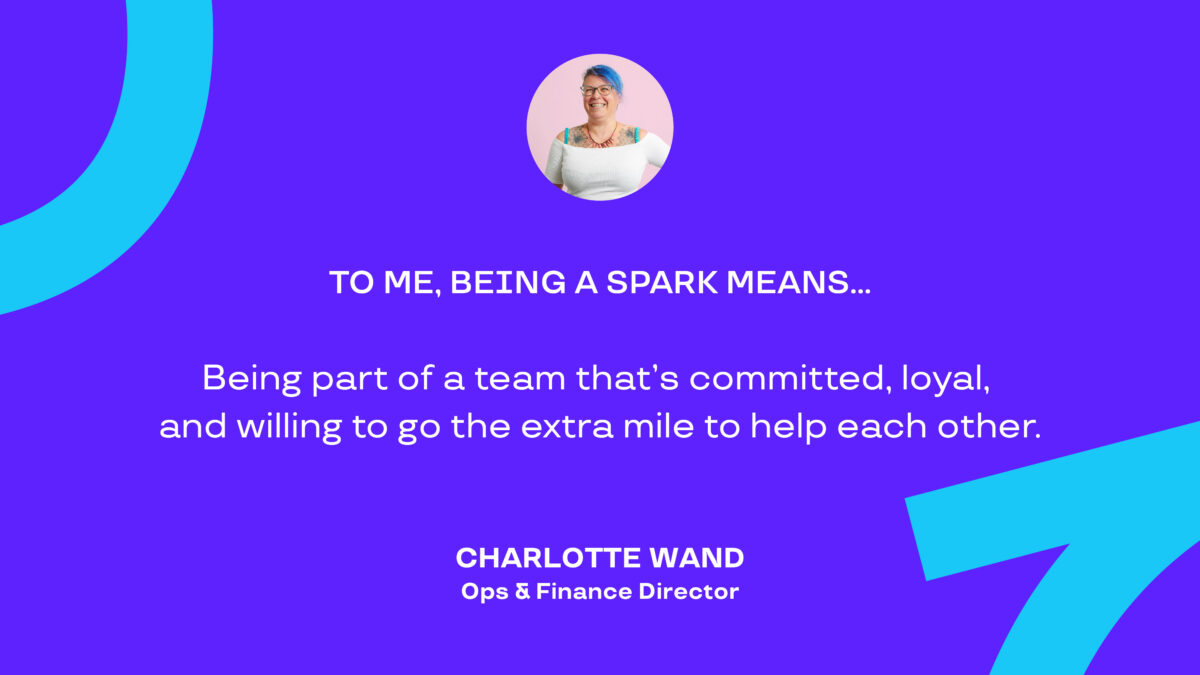 Thank you. Let's talk more about the future of Spark. 
Cally, what are you most excited about for Spark in the future?
It feels like this is the start of a new era for Spark. We've worked together to define who we want to be as an agency and we're really driving towards that with enthusiasm – and excitement too! I genuinely believe we're the ones to watch. Sometimes I feel like the energy at Spark is like that of a start-up, despite us being one of the longer standing kids on the block with a legacy of over 20 years.
Alex, Emillie and Elle, you three are so aligned – you're most excited about: 

Alex: For me. I'm most excited about the next project. I love seeing new projects or clients coming through the door and each one is a chance to do better and challenge ourselves.  

Emillie: I'm most excited to get stuck into all the upcoming projects we have coming in, the variety of opportunities you'll get is something you'd struggle to find anywhere else. 
Elle: I am excited for the new projects and clients in the pipeline. As part of spark we work on a lot of different clients in a number of different sectors and it's really interesting considering the creative which works best for each of these different companies. I think it is also so exciting seeing how the business is growing and how we are growing and developing as a team together not just as individuals.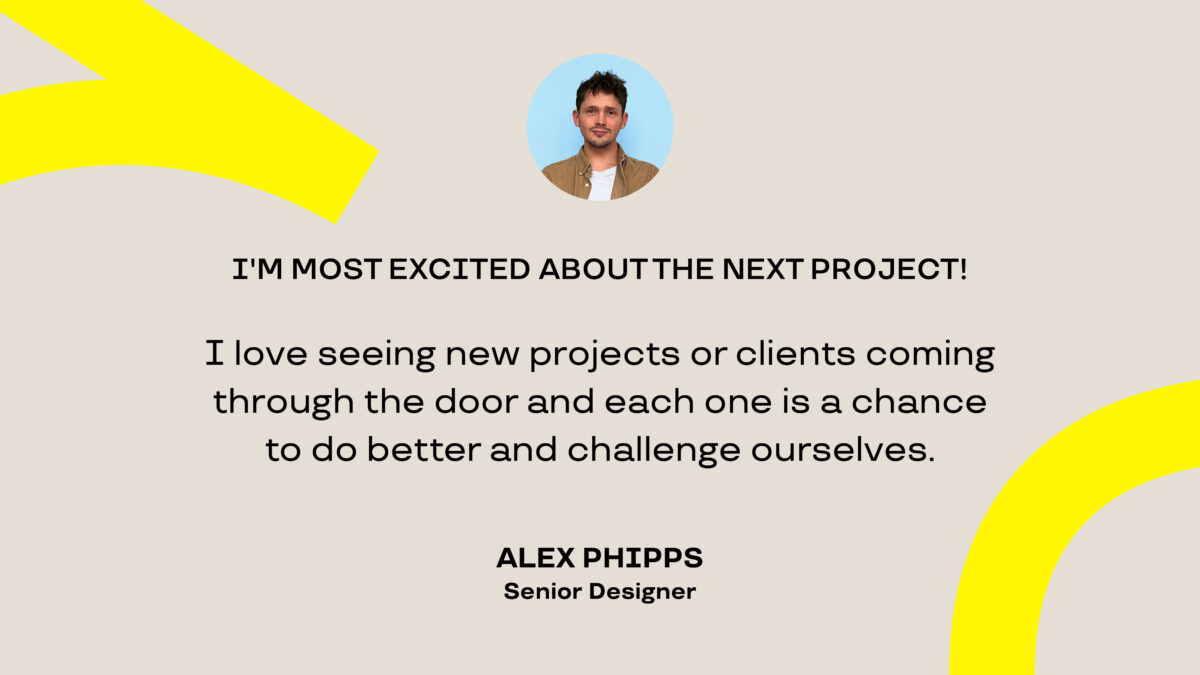 Hass, you're thinking big…
I am most excited for us to continue to push brands and hopefully win some awards for the great work we're doing.

Kate, what helps you spring into work every morning?
I'm excited about Spark's potential, there's an air of energy and excitement for what's to come. We've got a great team & culture which is the perfect foundation for whatever lies ahead!
Charlotte, as Ops Director, what is your vision for Spark?
To be hosting regular interns – helping nurture future talent is so important! 

And finally, if anyone were looking to apply for a role at Spark, what advice would you give them? 

Cally: This is a chance to be part of something really special, to become a crucial part of a team, to make a difference.  There's no arrogance, it's a group of passionate people who genuinely want to do brilliant work together with brilliant clients – and that's exactly what we're doing. 
Charlotte: Spark is a special place. We have made a point of listening to our team, learning from 20yrs of business and doing our best to implement positive changes. If you want to be somewhere that you can actually help shape, have a voice and know the team has your back – join Spark. 
Hass: I would say go for it and you'll get a chance to work with a supportive and talented team.
Alex: Be gutsy. We're a small independent team. So everyone who applies needs to stand out in one way or another.
Elle: Be as collaborative as possible, as a small team we need to ensure everyone is a team player, everyone needs to be passionate and care about each project they work on. 
Emillie: If you want exciting projects, lots of experience, with a great team, then Spark is for you.
Kate: I'd say don't even hesitate to anyone thinking of applying to Spark! The development & progression options make you feel 100% supported and invested in as a person. 
Sasha: Only apply if you really love what you do. 
Neil, you founded Creative Spark over 20 years ago and have ridden the waves of agency life. How do you feel reading these insights from the team? 

Like any small business we've had to deal with challenging times as well as the good times. We're in our strongest phase as an agency now  – and that's due to the team you've just been hearing from. 
Over the years I've learned some hard and fast lessons about finding the right people. Good people are important – but the 'right' people is what makes Spark. When recruiting and onboarding new members of the team, we're hyper-focused on maintaining our energy and momentum, and that takes someone who fits with our culture, ways of working and our principles. I've had to make some tough decisions in the past where for one reason or another, things don't fit right.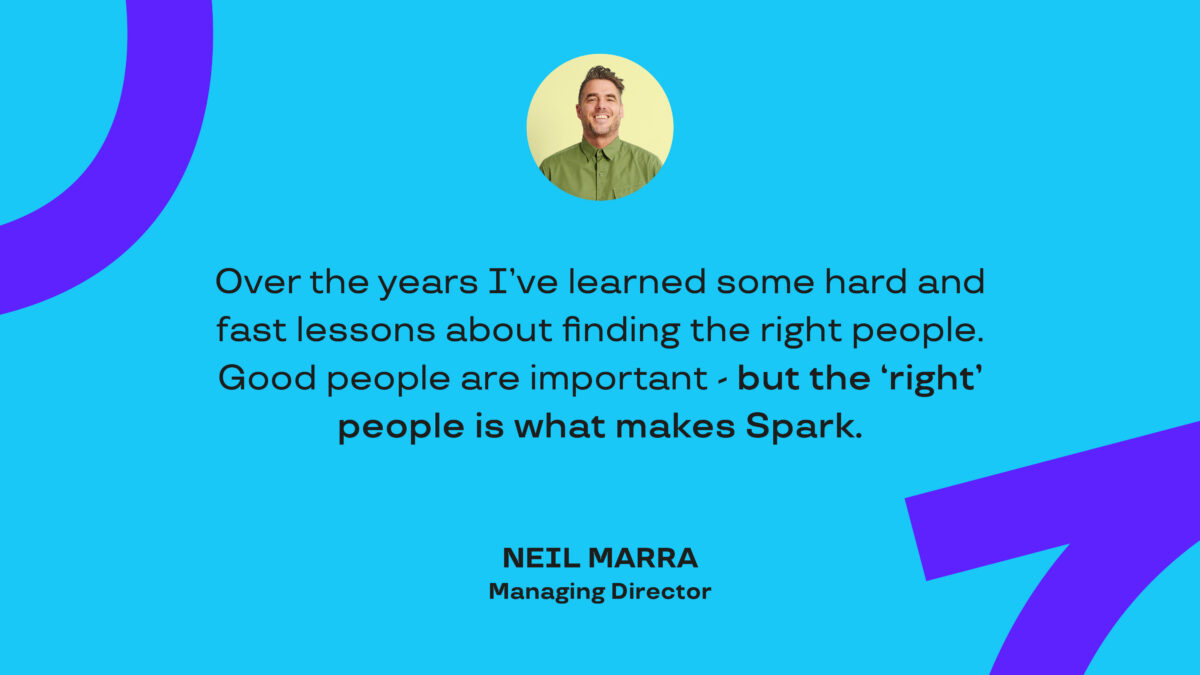 Be part of our Unstoppable journey
Subscribe to our monthly newsletter for the latest industry news and Spark inside-info – just scroll to the bottom of this page to sign up

Visit our

Careers page

to see the latest vacancies 

Check out our

referral scheme

if you know the perfect person to become our next Spark